Focus Area Committees
Focus Area Committees (FAC)
Participating on a Focus Area Committee (FAC) is at the heart of our mission and what sets Impact100 SRQ apart from other philanthropic organizations. Our members donate and our members decide. Members who join one of our five Focus Area Committees find the process that starts with grant application review and ends with celebrating our grant recipients to be extremely rewarding. No previous experience is necessary. We are thrilled to part of this with you! Click here to view our 2023 finalists and recipients
Focus Areas And Committee Meeting Times
Please Note That Two 2023 Focus Area Committees Will Meet In Person And Three Will Take Place Virtually

There Are 5 Focus Areas

Arts, Culture & History:
Tuesdays 8:00 am – 9:30 am on Zoom

High impact initiatives that cultivate, develop, enhance, or preserve the artistic, cultural and historic character of Sarasota and/or Manatee Counties.
Education :
Thursdays 5:45 pm – 7:15 pm at Roper Technologies, 6496 University Parkway, Lakewood Ranch
High impact initiatives that further the educational process or improve access to education for children and/or adults in Sarasota and/or Manatee Counties.
Environment & Recreation :
Fridays 9:00 am – 10:30 am on Zoom

High impact initiatives that restore, revitalize, or enhance the environment and/or create or improve recreational opportunities in Sarasota and/or Manatee Counties.
Family :
Wednesdays 5:45 pm – 7:15 pm on Zoom

High impact initiatives that strengthen and enhance the lives of children and families in Sarasota and/or Manatee Counties.
Health & Wellness :
Mondays 11:00 am – 12:30 pm at Gulf Coast Community Foundation Philanthropy Center, 1549 State St, Sarasota

High impact initiatives that improve the physical and/or mental health and wellness of people living in Sarasota and/or Manatee Counties.
FAC Members Review Grant Applications
The grant application review process begins in June with an orientation meeting and training. Members gain access to the grant applications via our online system in late June. Each member then independently reviews the applications within her focus area online, carefully considering the
Impact100 SRQ 5Qs
.
Committee meetings begin once applications have been reviewed and scored. Members collaboratively decide which initiatives will move forward to a site visit and what questions the committee would like to have addressed during that visit.
Site visit teams are then formed and visits, generally onsite but occasionally by Zoom, are conducted to gain a better understanding of the initiative and obtain answers to open questions. FAC members are strongly encouraged, but not required, to participate in site visits. Members who have served on site visit teams in the past will attest that they can be helpful, enlightening experiences. Site Visit Teams report their findings back to the FAC and a final vote is taken to decide which initiatives will be the committee's finalists for the entire Impact 100 SRQ membership vote in November.
The number of committee meetings depends on the number of applications assigned to the FAC. This entire process takes place between mid-July and late September.
Community Investment Review Committee (CIRC)
FAC members with financial expertise may volunteer to serve on the Community Investment Review Committee (CIRC). CIRC members receive training and attend meetings with the CIRC team. While the FAC members independently review the applications, the CIRC team, led by a CIRC Chair, reviews the applicants' financial statements and initiative budgets. They report their findings, including questions for the Site Visit Teams for those organizations moving forward in the process, to the FAC.
Exciting Changes Implemented for 2023!


FAC members gave us many helpful suggestions at the close of the 2022 Grant Review Cycle. Your suggestions have influenced the changes we are introducing for 2023. They include:
A shorter grant review cycle but more time for reviewers to complete their individual evaluations of applications.
Two FACs meeting in person – one in downtown Sarasota and one in Lakewood Ranch. Three will continue on Zoom.
Incomplete applications will not be passed along to the FACs
A revamped application and instruction booklet that provides more guidance to the applicants and easier review by FAC members
A new CIRC financial review process. CIRC reports will be presented and FAC members' site visit questions will be compiled the first time an application is discussed by FACs.
Sample templates and a new Site Visit Report to make site visit reporting easier and more consistent across FAC's
A consolidated and expanded Reviewers Handbook that includes everything Committee members need to know about grant application reviews, CIRC, and site visits in an easy-reference format
A simplified Confidentiality and Conflict of Interest disclosure process.
Fact checkers assigned to every FAC.
The Impact100 SRQ 5 key questions to consider when reviewing grant applications are:
Is the initiative clearly defined?

Is the initiative viable?

Is the Initiative sustainable?

Will the initiative be of high impact?

Will we be good stewards of the dollars with which we have been entrusted by funding this initiative?
The full Grant Cycle starts March 22, when applications are available to the nonprofits, and concludes with the selection of our finalists by the first week of October. Below are the steps in the process and Key Dates.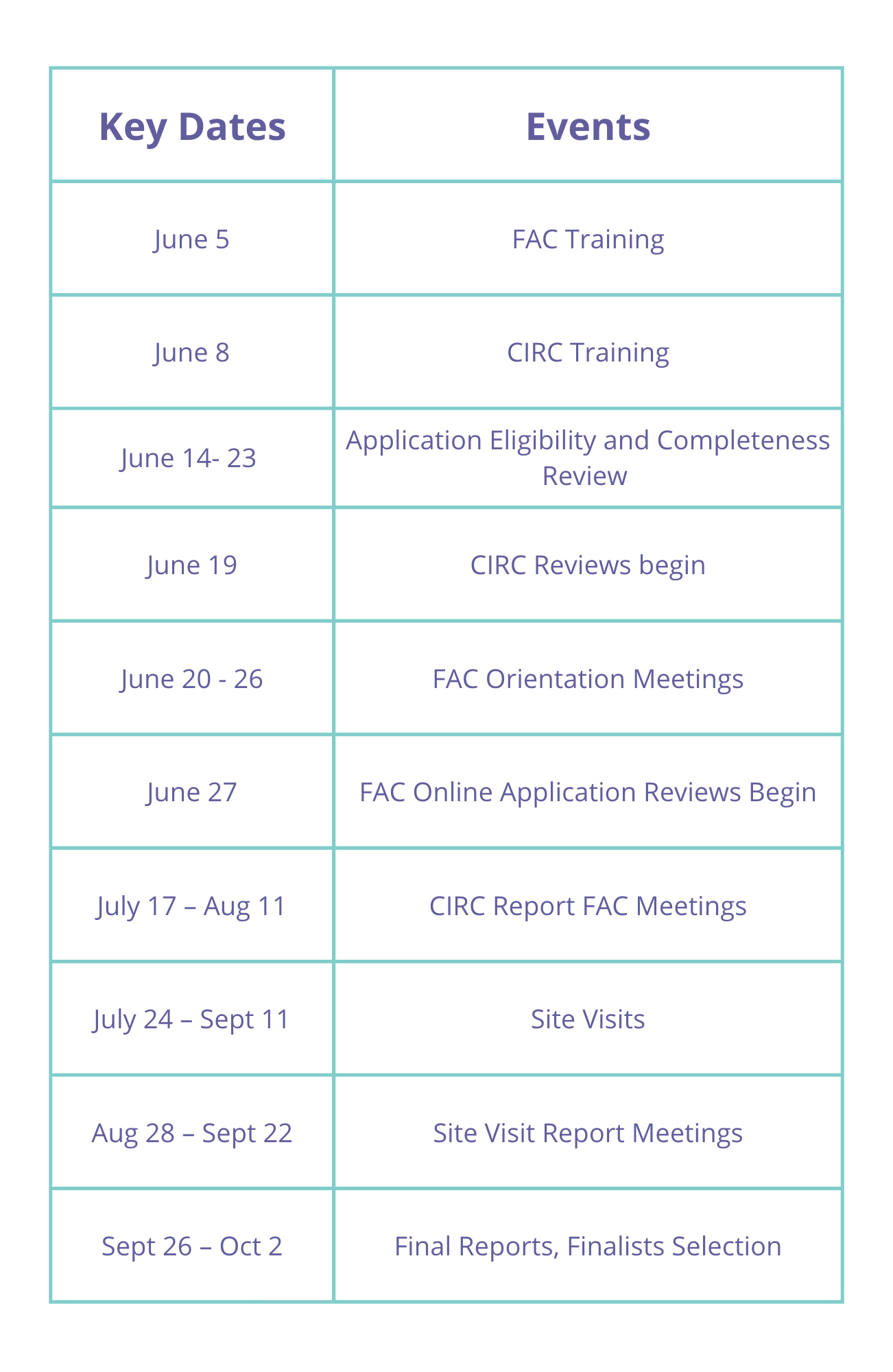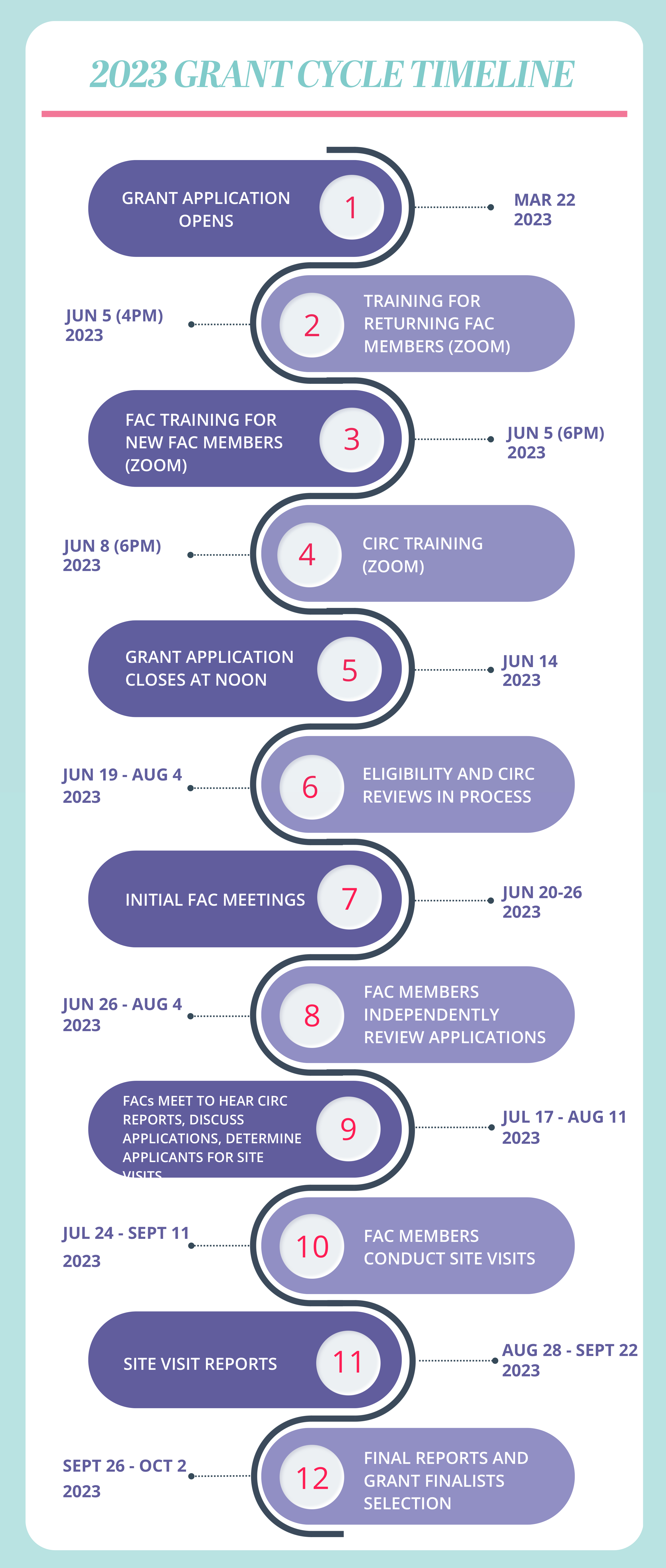 Conflict Of Interest And Confidentiality Policy

Impact100 SRQ Members are committed to acting with integrity in all of our relationships and to selecting grant finalists and recipients through an honest and fair process. In support of this, every Impact100 SRQ Focus Area Committee Member is required to read our published 2023 Grant Application Conflict of Interest and Confidentiality Policy and sign the Conflict of Interest and Confidentiality Agreement prior to review of grant applications.
The Policy states the following key points:
Each FAC member is responsible for identifying conflicts of interest she may have with applicants within her committee and has a duty to disclose a conflict
Each FAC member has a responsibility to avoid conflicts of interest during the application review process
Each FAC member agrees to abide by the guidance of the FAC Director to resolve a conflict of interest
Each FAC member shall refrain from attempting to impose unfair advantage or disadvantage for any applicant or from disclosing confidential or unsubstantiated information about an applicant during the application review process
Each FAC member agrees to hold confidential all proceedings and discussions of her FAC
Each FAC member will report potential conflicts to an FAC Director via email without delay once discovering one
2023 Focus Area Committee Information Dates
The following events are opportunities for members to learn about the grant application review process and meet other Committee members. See our Calendar of Events to register.
FAC and CIRC Q & A Session, on Zoom April 24, 12:00 – 1:00 pm
FAC and CIRC in-person Social, May 4, 6:00 – 8:00 pm
FAC and CIRC Q & A Session on Zoom, May 11, 4:00 - 5:00 pm
FAC Training for Returning Members, on Zoom, June 5, 4:00 – 5:00 pm
FAC Training for New Members, on Zoom, June 5, 6:00 – 7:00 pm
CIRC Training, on Zoom, June 8, 6:00 – 7:00 pm
Our Members Find The FAC Process Extremely Rewarding
"This is a feel good experience at every level. I look forward to bringing more women into the fold so we can fund all five grants."
"As a new FAC and CIRC member, I gained significant insight into the Impact100 model. Having been a member of numerous nonprofit boards, I'm thrilled to be a part of this organization. Great work, dedicated volunteers, and just a great group of women!"
"The experience is tremendously rewarding knowing I'm playing a small part in making a difference in our community and making new friends at the same time."
"Impressed with the professionalism of the process, the leadership and the committee members. Felt tremendous engagement."
"Love being a site team lead!!! Visiting the nonprofits in person is by far my favorite part of the IMPACT100 experience."
"It gives me the opportunity to see the needs within our community and the impact we make to address these needs."
"As a new member I was very impressed with the process from training to submitting our votes."