Focus Area Committees
Focus Area Committee (FAC)
Which transformational initiatives will be presented to our membership? Be a part of the Focus Area Committees that review grant applications and determine our finalists.
2022 FAC Signup period has closed.
Participating on a Focus Area Committee (FAC) is at the heart of our mission and what sets Impact100 SRQ apart from other philanthropic organizations. Our members donate and our members decide. Members who join one of our five focus area committees find the process that starts with grant application review and ends with celebrating our grant recipients to be extremely rewarding. We are thrilled to part of this with you! Click here to view past recipients.
Focus Areas And Committee Meeting Times
All 2022 Focus Area Committee meetings will take place virtually on Zoom.
There are five Focus Areas.
Arts & Culture : Wednesdays 6:00 PM – 7:30 PM
High impact programs or initiatives that cultivate, develop, educate, and enhance culture and the arts in Sarasota and/or Manatee counties.
Education : Fridays 9:00 AM – 10:30 AM
High impact programs or initiatives that further the educational process or improve access to education for children and/or adults in Sarasota and/or Manatee counties.
Environment & Recreation : Mondays 11:00 AM – 12:30 PM
High impact programs or initiatives that restore, preserve, revitalize, or enhance the facilities or natural resources (including for recreational use); or improve the welfare of animals in Sarasota and/or Manatee counties, including those that encourage research, public awareness, and education relating to the environment and conservation of our natural resources.
Family : Tuesdays 8:00 AM – 9:30 AM
High impact programs or initiatives that strengthen and enhance the lives of children and families living in Sarasota and/or Manatee counties.
Health & Wellness : Thursdays 6:45 PM – 8:15 PM
High impact programs or initiatives that improve the physical and/or mental health and wellness of people living in Sarasota and/or Manatee counties.
All 2022 Focus Area Committee meetings will take place virtually on Zoom.
FAC Members Review Grant Applications
The grant application review process begins in May with an orientation meeting and training. Members gain access to the grant applications submitted by nonprofits within each Focus Area in late May. Each member reviews the applications within her focus area independently online, carefully considering the
Impact100 SRQ 5Qs
.
The FACs then hold meetings, led by an FAC Chair, from mid-June to mid-September to discuss the nonprofits' initiatives presented in the grant applications. The FAC members decide which of the nonprofits' initiatives should receive a financial review and a site visit. The
Community Investment Review Committee (CIRC)
is a subcommittee of the FAC that conducts a thorough financial review of the organization and the initiative presented in the grant applications.
After the CIRC review is complete, FAC members who choose to join Site Visit Teams will travel to nonprofits and meet with the representatives. Site Visit Team members will interview the nonprofit representatives to gain a better understanding of the nonprofit's initiative, obtain answers to questions from the other FAC members and the CIRC team, and tour the facility if applicable. The Site Visit Team reports their findings back to the FAC members for their consideration. Based on all information reviewed by the committee, members then vote for their respective finalists.
At the end of the process each FAC will present their finalist(s) for the entire Impact100 SRQ membership vote in November.
Community Investment Review Committee (CIRC)
FAC members with financial expertise may volunteer to serve on Community Investment Review Committee (CIRC) within their focus area. Once the FAC members independently review the applications, the CIRC team, led by a CIRC Chair, reviews the financial statements and initiative budgets. They report their findings, including questions for the Site Visit Teams for those organizations moving forward in the process, to the FAC. CIRC members receive training and attend additional meetings with the CIRC team.
The Impact100 SRQ 5 key questions to consider when reviewing grant applications are:
Is the initiative clearly defined?

Is the initiative viable?

Is the Initiative sustainable?

Will the initiative positively impact the community?


Will we be good stewards of the dollars with which we have been entrusted by funding this initiative?
Timeline And Important Dates For FAC Members
Grant Review Timeline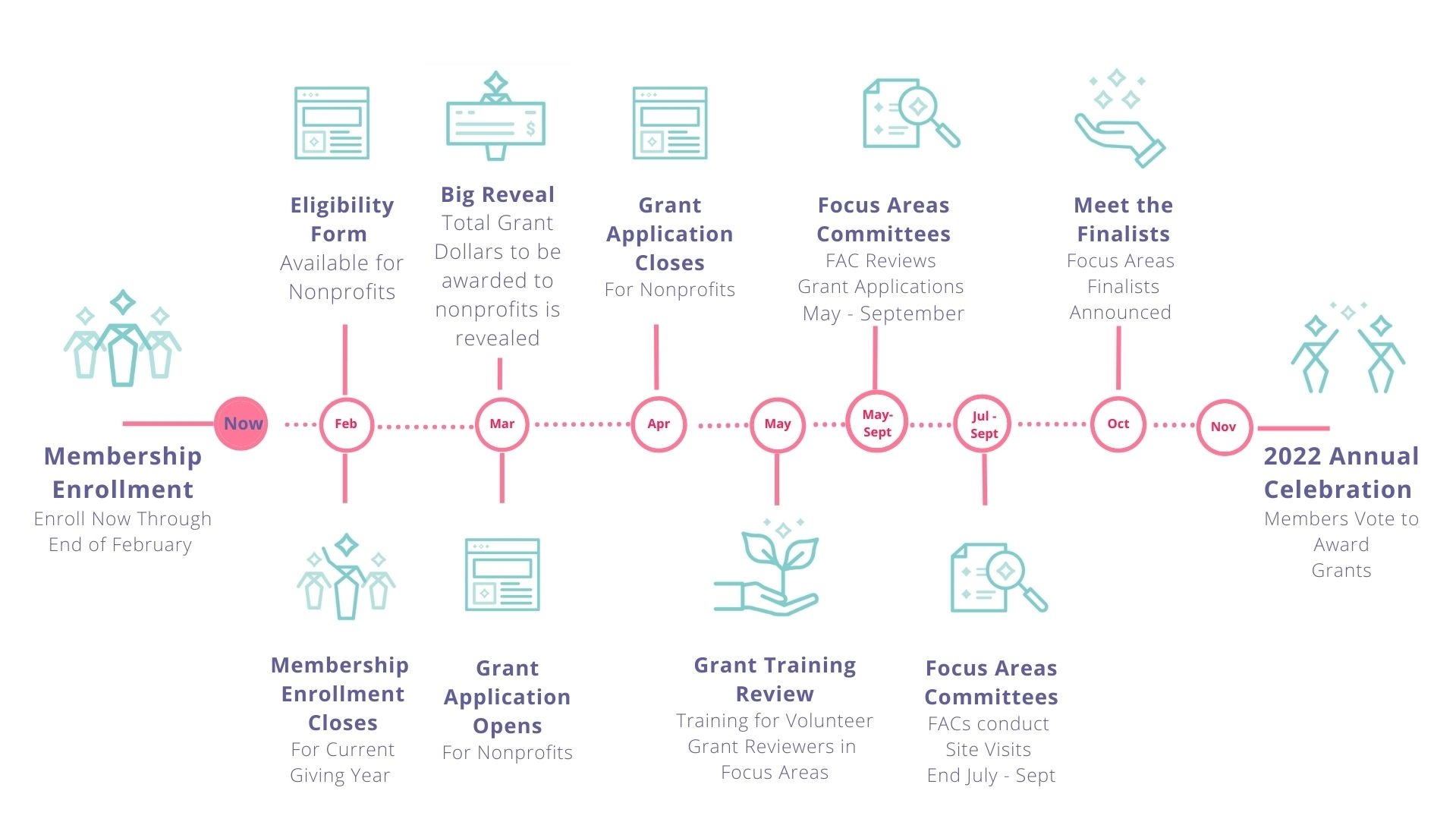 Important Dates for FAC Members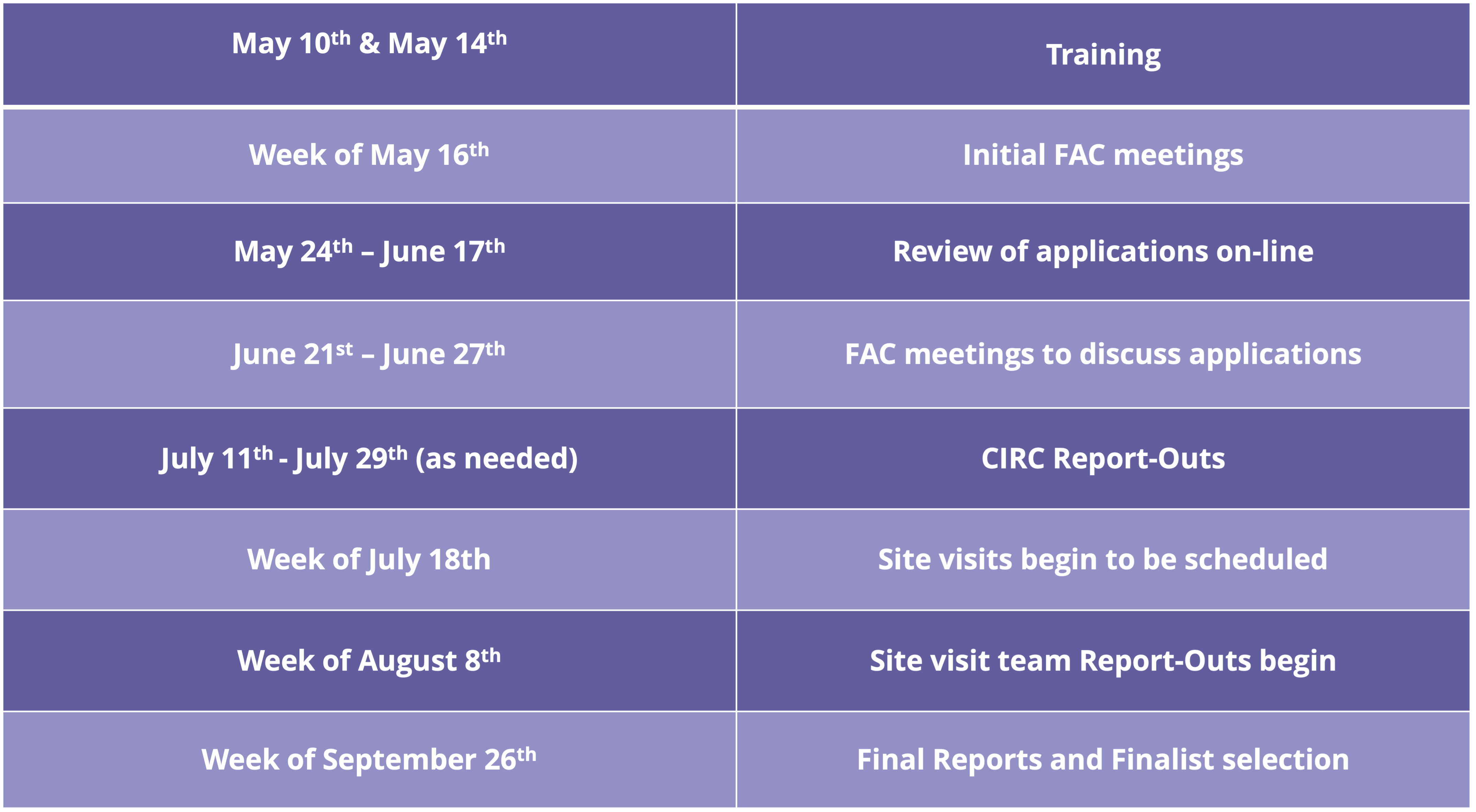 Conflict Of Interest And Disclosure Policy
All FAC members are required to complete the Conflict of Interest and Disclosure Policy prior to the grant review process. Impact100 SRQ is committed to acting with integrity in all of our relationships and selecting grant recipients through an honest and fair process. All committee members are required to agree to our Conflict of Interest Policy and complete a disclosure form. If a member serves on the Board, is an employee, or has a significant relationship with a nonprofit whose grant is being reviewed by one of our FACs, we will ask the member to serve on a different committee.
2022 FAC Training Information
FAC Information Session : view below in Training Videos

FAC member training

Site Visit Information Session June 28 6pm

CIRC training :

view below in Training Videos
Training Videos
Our Members Find The FAC Process Extremely Rewarding
"This is a feel good experience at every level. I look forward to bringing more women into the fold so we can fund all five grants."
"As a new FAC and CIRC member, I gained significant insight into the Impact100 model. Having been a member of numerous nonprofit boards, I'm thrilled to be a part of this organization. Great work, dedicated volunteers, and just a great group of women!"
"The experience is tremendously rewarding knowing I'm playing a small part in making a difference in our community and making new friends at the same time."
"Impressed with the professionalism of the process, the leadership and the committee members. Felt tremendous engagement."
"Love being a site team lead!!! Visiting the nonprofits in person is by far my favorite part of the IMPACT100 experience."
"It gives me the opportunity to see the needs within our community and the impact we make to address these needs."
"As a new member I was very impressed with the process from training to submitting our votes."